A route for everyone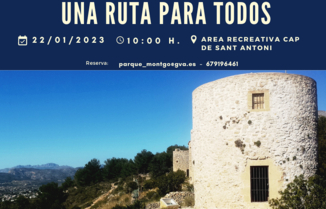 More information
Starting time: 10:00
Ending time: Not specified
Zone: Sant Antoni Cape Recreational Area
22/01/2023 /
Circular route of 4.5 km with an easy level, which starts from the Recreational Area of the Cape: Cap de Sant Antoni and arrives to the scenic viewpoint: Mirador de los Molinos in Xàbia. We aim to provide an approach that can become an accessible route for all the people in the Natural Park.
Prior reservation required: parque_natural@gva.es, tel.: 679 19 64 61
Organized by: Interpretation Center of the Montgó Natural Park.
Routes and excursions Free