Rebeca PLANA | Statement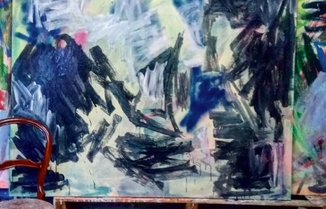 More information
Hora inicio: 20:00
Hora fin: Not specified
Zone: Recoleto Creative
29/04/2022 al 31/05/2022 /
Abstraction in 21st century Valencian Art.
The artwork by Rebeca Plana is noted for the energy and positivity which she reveals by means of a great combination of hot and cold colors which captivate the spectator, which create a special atmosphere where the visitor's emotions merge with the artist's energy.
Exhibitions
Plana's style recalls the major figures of painting such as Hans Hartung, Pierre Soulages, Willem De Kooning or Franz Kline where the brush stroke, gesture and color are executed in unison to become absolute protagonists. It does not matter whether or not if they are monochrome paintings, she achieves a texture and brush strokes that are immortalized in each gesture. Born in Albalat de la Ribera, Valencia, Rebeca Plana is a graduate from the Faculty of Fine Arts at San Carlos de Valencia and has studied at the Faculty of Fine Arts in Lisbon and in the Spanish School in Paris.