Carnaval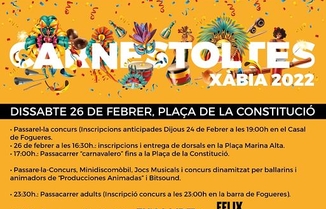 More information
Hora inicio: 17:00
Hora fin: Not specified
Zone: Pl. de la Constitució (Constitution Square)
26/02/2022 /
Xàbia dresses up for Carnival again!
Next Saturday, February 26th, our streets recover the joy of the festival. In order to facilitate maximum ventilation and dispersion of attendees, there will be no tent.
At 5:00 p.m. a carnival parade will take place from Plaça Marina Alta to Plaça de la Constitució where the party will be enlivened with a minidiscomobile, catwalk contest, musical games and a contest led by dancers and entertainers from Producciones Animadas and Bitsound.
At 11:30 p.m. We will have the carnival parade for adults and afterwards the end of the party with the DJs Juan HDZ and Felix Olivares (Khandala) at Plaça de la Constitución.
Festivities