Magic Day - Harry Potter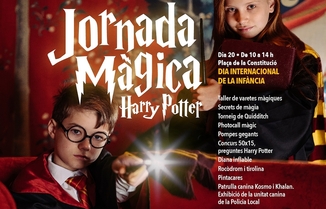 More information
Starting time: 10:00
Ending time: 14:00
Zone: Pl. de la Constitució (Constitution Square)
20/11/2021 /
International Children's Day.
Magic wand workshop; magic secrets; Quidditch tournament; magic photocall; giant bubbles; 50x15 contest, questions Harry Potter; inflatable bullseye; climbing wall and zip line; face painting; canine patrol Kosmo and Khalan. Local police dog unit exhibit.
Two shifts: From 10 am. to 12 pm. and from 12 pm. to 2 pm. Age 4 to 12 years. Parents will not be able to enter.
Registration is required at: https://entradium.com/es/events/jornada-magica-javea
For children Free