35TH SUMMER MUSIC FESTIVAL: A NIGHT AT THE OPERA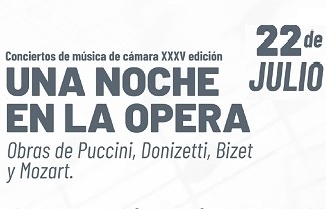 More information
Starting time: 22:30
Ending time: Not specified
Zone: San Bartolomé (St. Bartholomew) Church
22/07/2021 /
Chamber Music Concert with works by Puccini, Donizetti, Bizet and Mozart by the musicians: Vicens Prats, Pierre Martens, Thomas Indermühle and Amedeo Salvato.
Provincial Council of Alicante for the performance of Cultural Activities of Special Importance.
It is essential to register in advance as a safety measure for the Covid-19. Call 96 5794344, from Monday to Thursday from 08:00 to 14:00 and on Fridays from 08:00 to 12:00.
Music Precio Free