37th Hogueras S. Juan Trophy, 6th Domingo Canet Memorial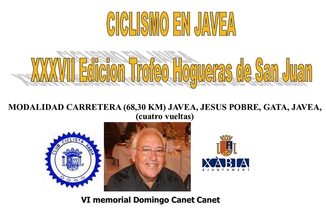 More information
Hora inicio: 17:00
Hora fin: Not specified
Zone: Pl. de la Constitució (Constitution Square)
12/06/2021 /
Race mode: (68.30km) Jávea, Jesus Pobre, Gata, Jávea.
Total: four laps.
Sports Precio -
Registrations in the Federation web page.
Start from Plaza de la Constitución (17:00h)
Finish: At the road: Carretera del Cabo de San Antonio, in front of the Restaurant Amanecer.
Organized: by Club Ciclista Xàbia
Sponsored by: Town Council of Xàbia
Collaboration by: Red Cross, Civil Protection and Local Police.