Children's theatre: L'Encanteri del drac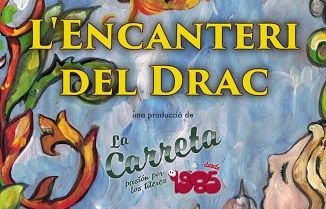 More information
Hora inicio: 12:00
Hora fin: Not specified
Zone: Arnauda's Riurau      
28/03/2021 /
Company: La Carreta Theatre.
A puppet production that brings to life a legendary story of a threatened forest, a cursed people, an angry dragon and a hero who was not expected. An epic and entertaining adventure with live percussion music and classic stage effects, to recreate all the magic of ancient medieval legends.
For children from 2 years.
It is essential to register in advance as a security measure for the Covid-19 by calling the phone. 96 5794344, Monday to Thursday from 8 a.m. to 2 p.m. and Friday from 8 a.m. to 12 p.m.
For children Precio 3,00 €