The splendor of the Riuraus route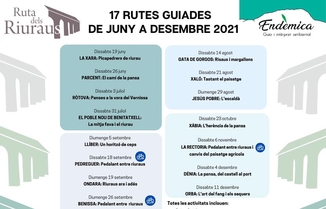 More information
Starting time : Not specified
Ending time: Not specified
Place: Place to be determined
18/11/2021 al 11/12/2021 /
The Riuraus route unveils a new schedule of guided routes through landscapes, crops, riuraus, history and economy of the export of the pass, l'escaldà, architecture, crafts and bike routes, from the interior of la Marina Alta and la Safor to the sea.
Next routes: 20 Nov. in Gata, 4 Dec. in Dénia, 11 Dec. in Orba.
Inscriptions: 616 043 173
More information on the web www.rutaldelsriuraus.es and social networks.
Routes and excursions 10€ and children between 7 and 12 years: 7€
This program is configured as a joint and unique proposal for each of the towns that are part of the route, in a total of ten and seven cultural proposals in collaboration with Endèmica, a company dedicated to the dissemination of cultural and natural heritage.