Campus municipal: Estiu Esportiu 2021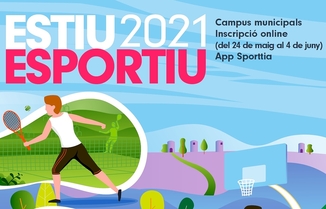 More information
Starting time: Not specified
Ending time: Not specified
Zone: Palacio Municipal de Deportes
24/05/2021 al 04/06/2021 /
Practice of different sports modes such as paddle tennis, badminton, ping-pong and other sports disciplines.  This campus is designed for children aged 8 to 14; it will be carried out in summer from 5-16 July 2021, from Monday to Friday.
The registration must be completed between 24 May and 4 June at the portal: www.app.sporttia.com or the APP (available for Android and iOS).
More info.: 96 579 20 00 (Pabellón Municipal Miguel Buigues Andrés).
Sports 70€
In addition to these modalities, there are sports clubs and entities that offer the following activities:
X Escuela de verano de fútbol Penya la Marina
Campus de verano Club Bàsquet Joventut Xàbia
Tecnificación básquet
XXV Liga Interescolar Club Náutico Jávea
Escuela Multideportiva Xàbia
Campus de verano Artística CD Montgó
Campus de verano Rítmica CD Montgó
Escuela de verano del club Gimàstica Rítmica Xàbia
Campus de verano F.C. Amigos
Surfcamp
II Karate Campus de verano
DOWNLOAD HERE more info.