Theater: "Waterloo"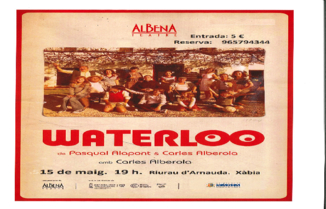 More information
Starting time: 19:00
Ending time: Not specified
Zone: Arnauda's Riurau      
15/05/2021 /
From the company Albena Teatre. By Carles Alberola and Pasqual Alapont.The story of a country family, a normal and happy family, a journey through time and about what theater is all about: storytelling.
It is essential to register in advance to attend any of the cultural events, as a safety measure for the Covid-19. For this purpose, you must call 96 5794344, from Monday to Thursday from 08:00 to 14:00 and on Fridays from 08:00 to 12:00.
Theatre Precio 5,00€